Credit Card
Get easy and quickly make payments online by credit card. We are supported by Visa, Master Card, JCB, Amex 3D Secured also PCI DSS Level 1.
Through our Online Credit Card service, we will provide your business with these features.
NICEPAY's smart system detects the best performing gateway in terms of success rates and routes your transaction through it. In the event of downtimes, scheduled maintenance breaks, load on the bank servers, etc.
Provides online instalment function in cooperation with credit card company (issuer) directly, so it can make your customers to buy the items they like easier than before.
When a problem occurs, NICEPAY's Smart Retry System will not immediately redirect customers to a page that indicates a transaction failure, so that the customer can continue to make transactions.
Payment transactions can be directly carried out on the merchant's application or website without having to be transferred to the NICEPAY payment page so that the payment process can be done quickly and accurately.
This feature allows customers to store credit or debit card information which will affect the speed of transactions, better customer retention and encourage repeat purchases.
Payment transactions can also be done on the NICEPAY payment page if the merchant does not have adequate payment facilities or infrastructure on their website so that transactions are guaranteed to remain safe and smooth.
No need to bother to charge customers every month, this feature can cut balances or limits from credit or debit cards automatically and periodically with the approval of the customer.
This is a feature for temporary storage (maximum 6 days of funds from a credit card to save money until the payment due date). This feature is only supported by Mandiri bank.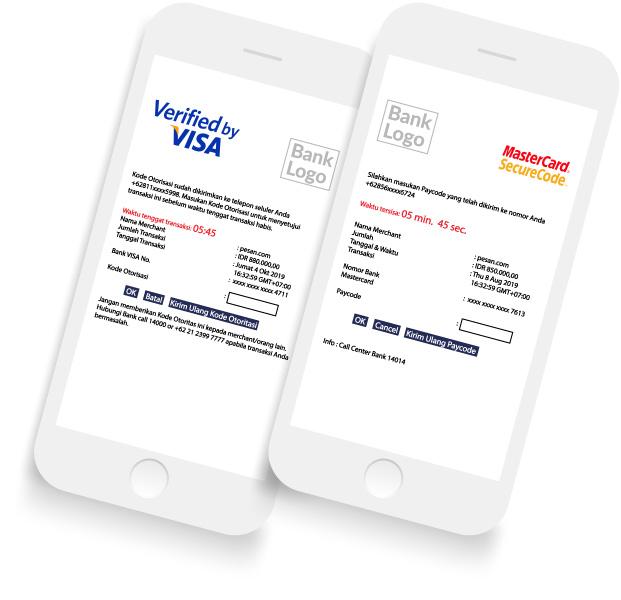 3D Secure
In providing secure credit card payment services. NICEPAY applies 3DSecure is a process of verifying payments from customers to merchants, which can be done directly through the merchant's website/application or via the 3D-Secure NICEPAY page. The 3DSecure page is directly connected to the principal VISA and Mastercard
We provide 9 choices of Indonesia's leading banks for online businesses through the best payment methods without manual checking.
Customers can pay bills by choosing a payment method through convenience stores (Alfamart & Indomaret) spread throughout Indonesia.
For e-banking subscribers, it delivers to pay directly from their bank account. Pay directly by internet banking payment service through BCA KLIKPAY.